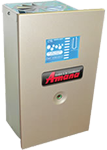 Ultraviolet light kills bacteria and mold growing on your indoor coil before they are circulated throughout your home. UV lamps are installed near your existing indoor coil and work diligently to rid your home of the bacteria, viruses, mold and germs that impact your home's health. We install 1 or 2 lights per indoor coil, depending on the size of the coil.
The activTek INDUCT 2000 utilizes tested ActivePure® technology to substantially reduce odors, visible smoke in the air, and treat contamination on surfaces. Available for 100 or 277 volt installation, the INDUCT 2000 can be inserted into a duct or plenum as a low maintenance way to incorporate air treatment into HVAC systems, requiring no cleaning. Includes a UV bulb monitoring indicator. Covers up to 2000 square feet.
RESPICAIRE - THE EVOLUTION OF CLEANER INDOOR AIR
What can a Respicaire Ultra Violet Air Treatment System, do for you?
Respicaire dedicates its energy to making your indoor air environment a safer, healthier place to live. With more than 85 years of expertise, our air cleaning technologies continue to make a difference in improving the health of indoor air environments everywhere.
The Respicaire PHPCO features our patented Spiro-Plate Air Sterilizer System. This innovative system uses powerful air cleaning processes to treat your indoor air for mold, virus, bacteria & noxious gases. The system begins by creating multiple wavelengths of UVC ultra violet light. These wavelengths act as potent germicidal agents to kill & control airborne molds, virus & bacteria.
The "Spiro-Plate" sterilizer creates an intricate catalytic reaction producing friendly "air oxidizers". These natural "oxidizers" treat your indoor air four specific ways to significantly enhance purification. This means that you can target airborne gases as well as airborne microbials to dramatically intensify indoor air cleansing.