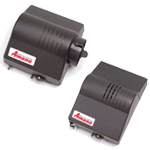 Humidifiers work in tandem with your heating system to deliver desired humidity levels throughout your home. Maintaining proper humidity levels in your home is essential to maintaining indoor comfort during the winter months. Moderate humidity levels make you feel warmer at lower temperatures, which means you can set your thermostat lower without sacrificing comfort.

Depending on the size of your home, we offer a variety of humidifiers to deliver the right amount of moisture into the air. Sizing of humidifiers is measured in Gallons Per Day (GPD), and we offer models from 12 GPD to 18 GPD.
The Aprilaire Model 800 Humidifier is a whole-home solution that helps you achieve total comfort through humidity control. As a steam model, the 865 complements non-forced air heating sources and other specialty heating systems. It is installed by a local HVAC professional. The Aprilaire Model 800 Humidifier is a steam humidifier designed for home applications where evaporative units are less practical.
The Model 800:
Accommodates crawl spaces, attics and areas of the country with milder winters and non-forced air heating.
Provides humidity to the largest of homes (up to 6,200 square feet).
Performs quietly and with simple maintenance. You only need to replace the canister.
Has a capacity of 11.5, 16.0, 20.5, 23.3, and 34.6 gallons per day, depending on electrical draw.
Uses cold water, which may be hard, soft or softened.
Features truly automatic control but can be installed in manual mode as well.